They're now 4 months and about a week old. They looked like sheep dogs, so they were groomed on 9-26-15. I did video before and after, so now they look like toy poodles.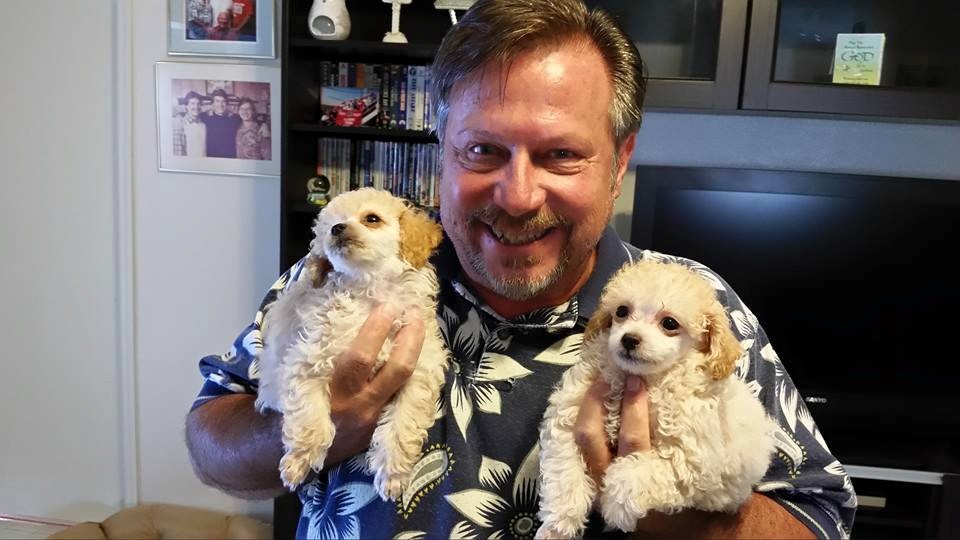 Sharon and I brought Joey and Zoey home from their breeder, Oodles of Poodles on Friday July 17th 2015. Look how cute they are! We had no idea how much fun these little dogs would be.
This was so funny! Zoey found a leaf (like she always does) and of course Joey wanted it. So, Zoey decided to play keep away from Joey and that's what she enjoys. She's good at it too! On the other hand, if Joey gets it, he just walks around and Zoey will snatch it away from him.
UPDATE 7-28-15:  Joey has learned to run from her and suddenly turn so she over shoots his position.  He's getting better at it.
Joey is the lighter colored male and Zoey is the darker and smaller female.  She was the runt of the litter and to make up for her smaller size she's more aggressive.  Sounds like some people I know.
Joey and Zoey, our toy poodle puppies, like to play tug-of-war with everything, including sticks, socks, clothes, and big leaves outside.  The big leaves don't last long!  LOL!
Update: 8-11-15
Joey and Zoey, our very cute toy poodle puppies are learning how to fetch this week.  This fabric toy flies like a Frisbee and they're getting a kick out of chasing it.  It's pretty funny but also rather astounding because we've had them for about 3 weeks.  They won't be 3 months old until a week from now.  They're showing that they're pretty smart!
Update: 8-17-15
Joey and Zoey are our toy poodle puppies who just turned 3 months old! This was at the end of their second bath in the one month that we've had them. They've learned how to dig in muddy dirt, so they'll get used to the kitchen sink!
Update: 8-25-15
Joey and Zoey are our toy poodle puppies and they came running from a pile of sticks with this long one. Joey was on one end and Zoey was on the other.  By the time I got my camera out, they had stopped running and you can see the rest.